Goodbye phở now but not phở-ever
A tall girl is in a small world – Alli Devlin, an Australian girl who lived and studied in Vietnam for 11 months. She was able to experience all the ins and outs of Vietnam, sharing them with us through her blogs. This is a great example of non-professional journalism which provides insights into the true Vietnam.
We would like to say thank you to Alli for allowing us to post her article on our site and hope to see her when she has another chance to visit Viet Nam.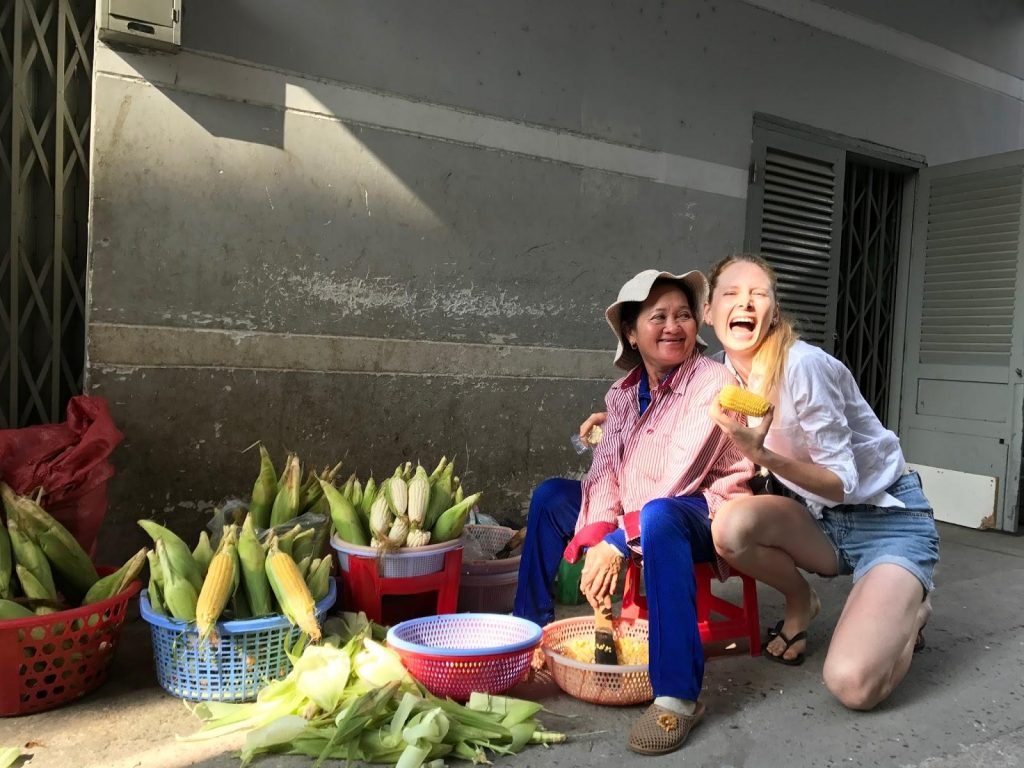 "It may be a bit corny but I love you Vietnam"
Never have I felt so welcome in a foreign environment. When I walk down the streets I am guaranteed to be met with countless 'hellos', smiling faces, street food galore and a range of unusual activities to keenly observe. Vietnamese people aren't afraid to hug you on your first encounter, invite you in for a meal, hand you a beer at 11 am, laugh at you or immediately ask personal questions (Do you have a boyfriend? Do you want a Vietnamese boyfriend? How much did you pay for that?). Vietnam is a nation who likes to wake up early, wear their pajamas outside, hide from the sun, share food, celebrate loudly and treat friends as family.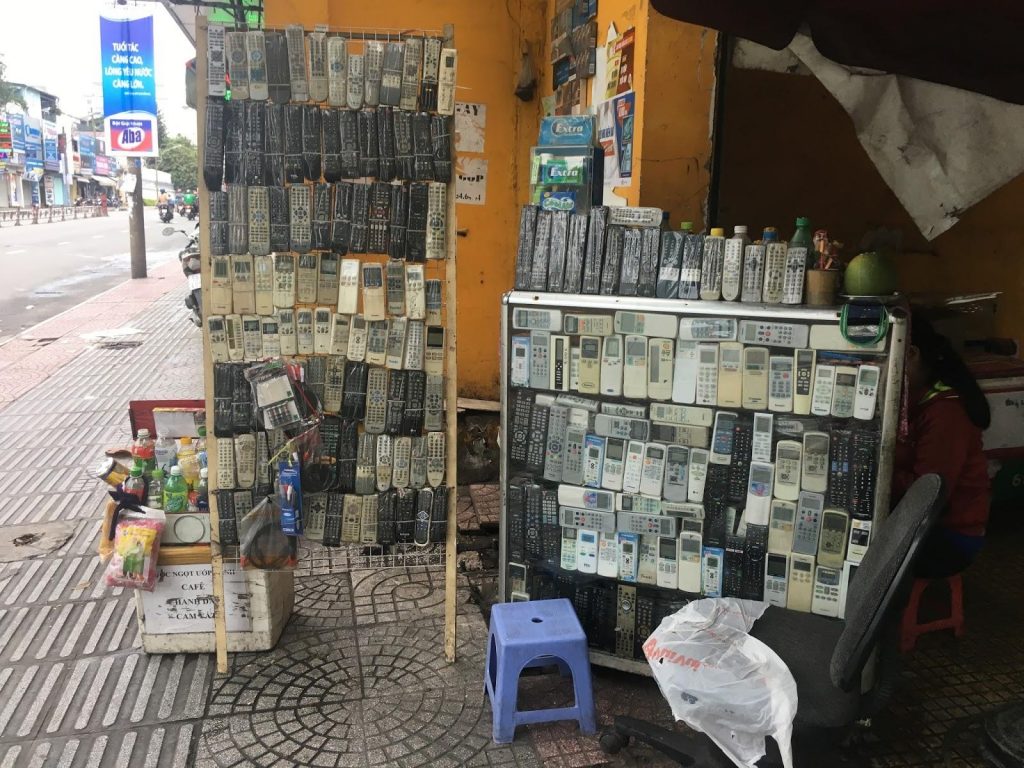 How can you not love a country which has stores that just sell remotes? I'm not sure how competitive this market is so can't endorse investment at this point.
Some reasons why I fit in well with the Vietnamese culture:
– We both like a good deal
– We both like fresh food
– We both like to get up early
– We both drink tea like water
– We both like burping out loud
– We both like to cross the road whenever we please (this is coming from a convicted jaywalker)
– We both share the same humour in laughing at the differences and insecurities of another (in Australia we normally do this through sarcasm but its more upfront in Vietnam)
Purpose is derived within communities 
Working with Indochina Engineering for the last 2 months has highlighted just how important it is to create strong bonds with co-workers and instill shared value. Although work in this engineering consultancy is often individual, the concept of 'team' is so visible. Every lunchtime we stop at exactly 11:45 am when the classic 'Lean On' (shout-out to Major Lazer and DJ Snake for supplying the tunes) is played, prompting everyone to go to lunch in smaller groups. We then all return to have a quick nap before 'Lean On' is played again at 12:45 pm and this time we all dance.
Friends are closely integrated into family life, to the extent they are called sister and brother. If family members are sick, friends also visit them in the hospital. I had an eye-opening experience at an under-staffed and packed public Vietnamese hospital visiting my friend's grandma. At home, people often separate their social and family lives, particularly when sick family members are involved. Although the intention is to not burden anyone with your problems if we share each other's pain and fears we are actually able to support each other.
Look down, not up; beauty is in the details
Vietnam's beauty is found in the hidden alleyways, the noodle shops beneath stairways and the bustling market streets. If you look up you may be distracted by tangled electric wires, low-quality construction, and air pollution. If you look down, you appreciate the intricacies of daily life, the creativity of home inventions and the tenacity of Vietnamese to execute multiple activities in a tiny amount of space.
It's a weird feeling being on the rooftop of a sky rise in Saigon. The huddled lights emphasise the sheer density of the city.  Appreciating the expanse of the city you quickly realise how rare it is for Vietnamese people themselves to soak in this view.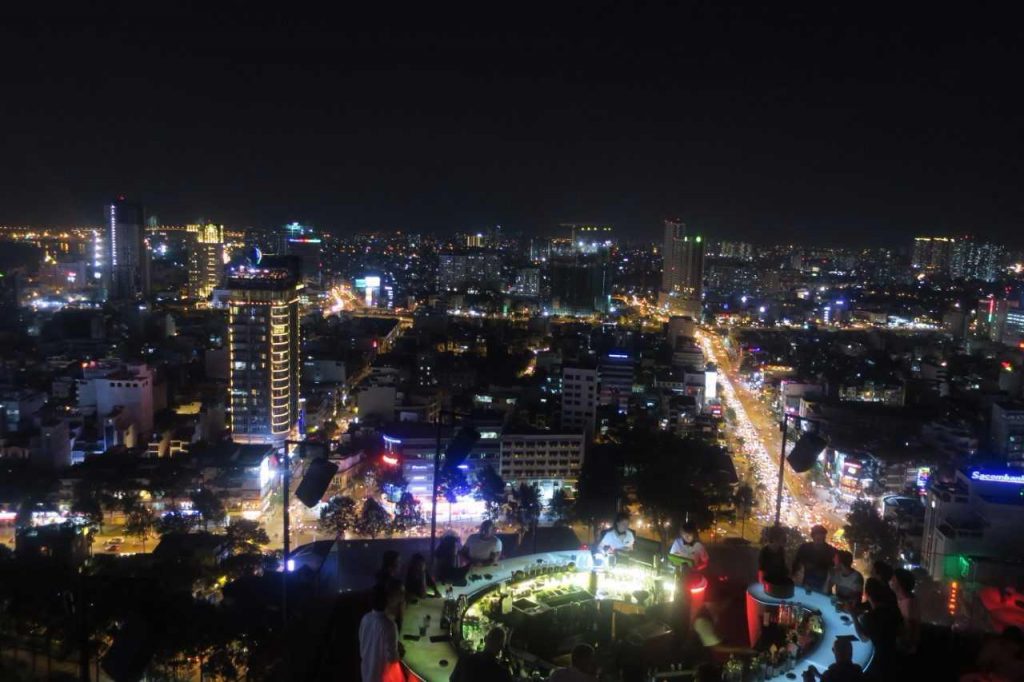 Life is lived to the fullest on the footpath
There are no backyards here so life is lived on the street. Funerals, weddings, car washes, parking, markets, and food stores are all set up on the footpaths. Neighbors quickly turn into a family as you literally live in each other's personal space. Always be aware as you may be handed a beer any time after 10 am and it's rude to refuse. One Sunday morning I was last minute invited to the celebration of a neighbor's father's death anniversary: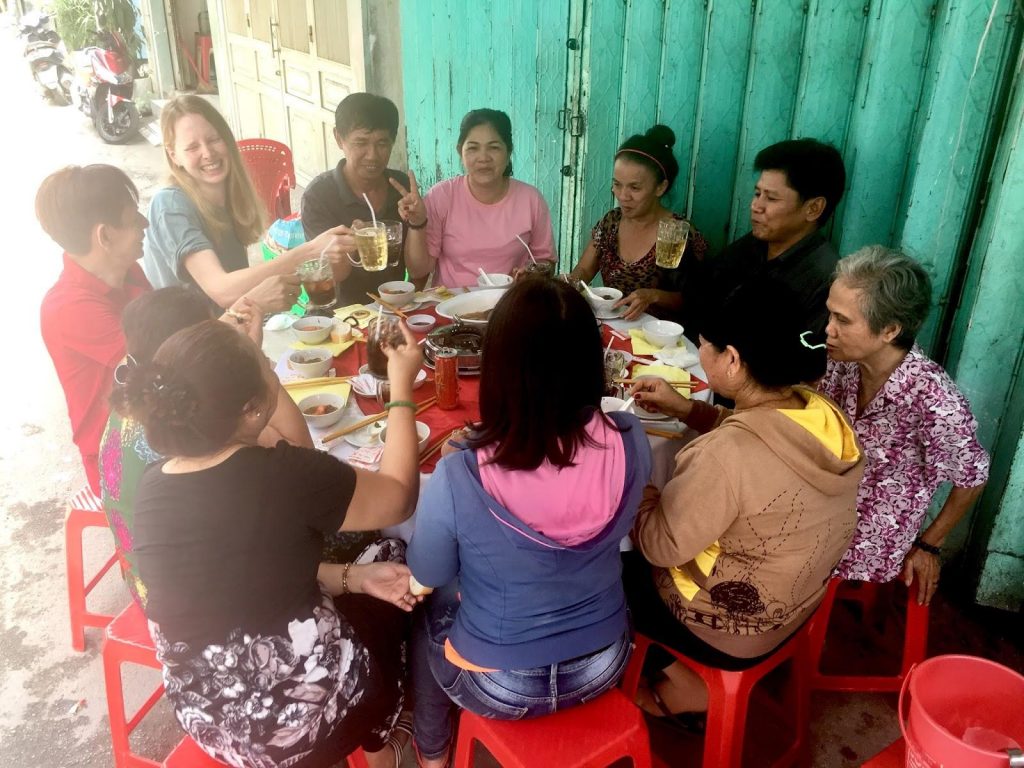 LGBTQ rights are progressing
In Hanoi ,I attended the Mardi Gras event held at the Australian embassy where I proudly giggled at Ambassador Craig Chittick judging the drag queen performances. I also spent a Sunday in HCMC running around with rainbow flags in the city central with some friends who were all young gay guys struggling to find their identity in modern Vietnam. Whilst they had the freedom to shout out their sexuality in the city central, many did not have familial support to express their true selves at home, posing a threat to the traditional Vietnamese culture and belief in the conventional relationship between a man and woman. The HCMC pride event was supported by the US Embassy whose ambassador is gay himself and his husband lives with him here in Vietnam.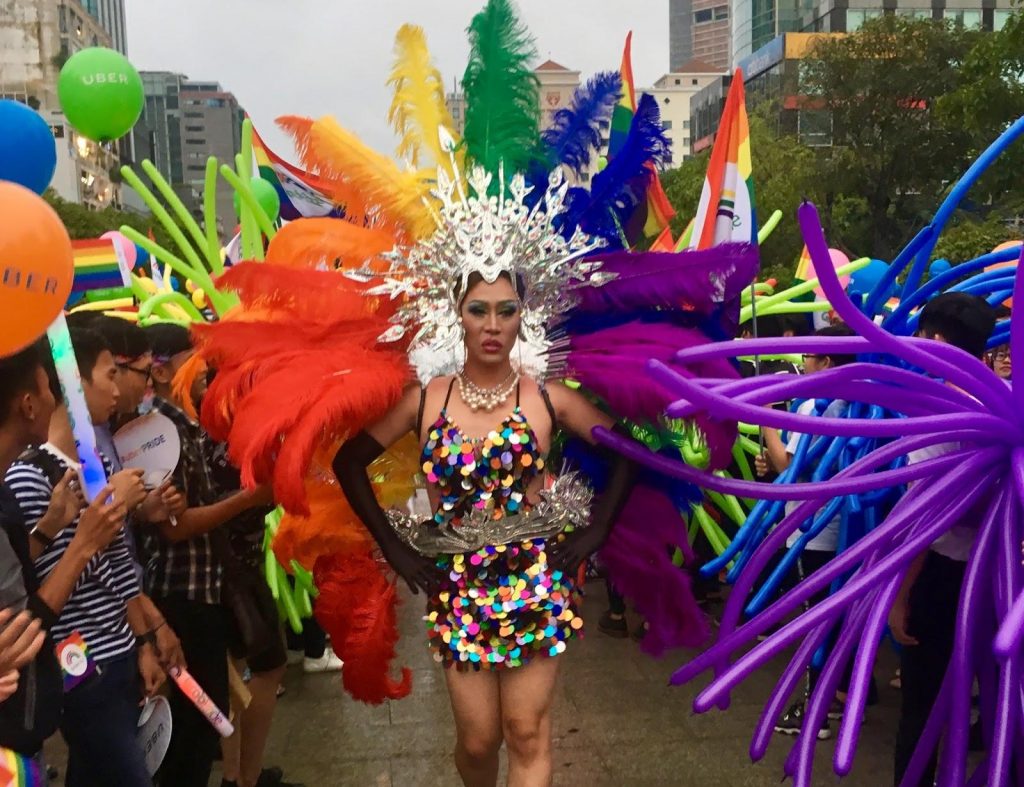 Reverse racism exists
Sometimes all I wanted was to look Vietnamese so people wouldn't stare, especially as I eat noodles for breakfast and consider myself pretty damn Vietnamese. However, my Western appearance will guarantee me a poolside seat at the fanciest hotels in town (which I don't stay at) and any Westerner can get a well-paid job here teaching English without any training (you just need a degree). Westerners are often incorrectly assumed to be rich and intelligent so it sometimes works in your favor to stand out.
Living overseas sometimes makes me more Australian
I am pretty sure I say 'mate' more often then I used to and I developed a weird habit of eating vegemite straight from the squeeze bottle. I talk about kangaroos as if they are my best friends and I even played my first competitive game of AFL in Vietnam. I was in fact playing for Vietnam, against Cambodia, and Vietnam won! Most of our team was twice the size of some little Cambodian girls, but this was not classified as an unfair advantage.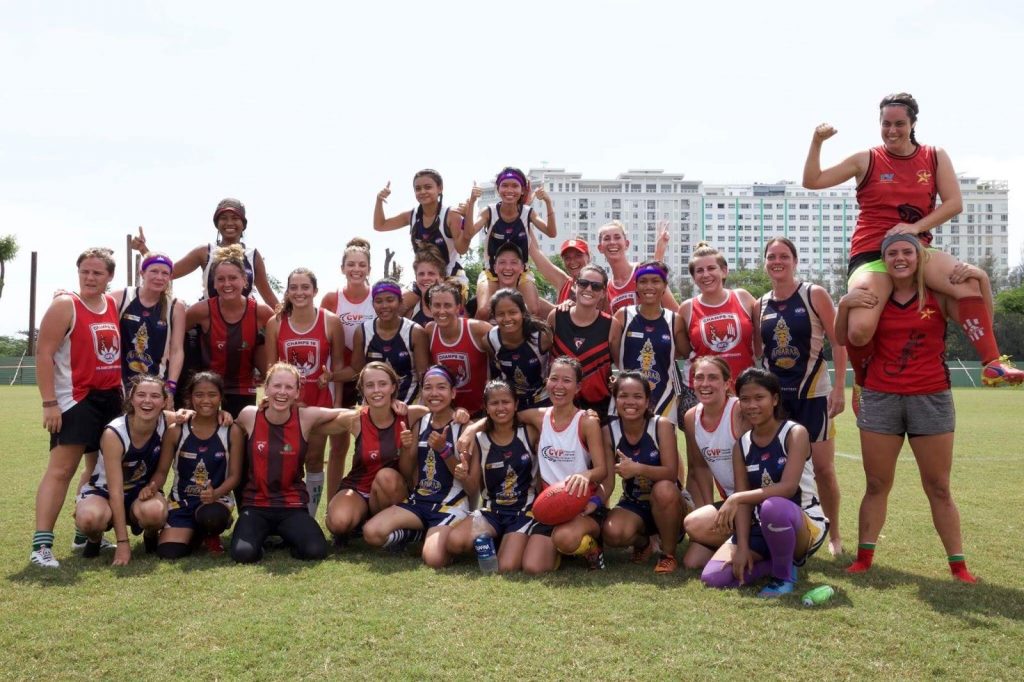 People ask me what I will take away from Vietnam the most? I say the people and the passion. Whatever you do in life, do it with purpose and continue to challenge yourself. Be inquisitive, meet new people and try new things. People are important and patience is definitely a virtue – nothing will get done unless you invest in personal relationships. Share both your wins and your losses.
In my final hours in Vietnam I, was on the footpath savouring the last moments and last meals, hugging good friends and strangers. I was in prime position to watch the humorous daily activities and breathe in some freshly polluted air.
Goodbye phở now but not phở-ever…I will be back.
Alli Devlin
'This blog post originally appeared on Blog Spot and was reprinted and adapted with permission

http://tallgirlsmallworld1.blogspot.com/2017/10/goodbye-pho-now-but-not-pho-ever.html?m=1.'